"Something is missing in my marketing but I don't know what."
This caption is what I heard this morning on a call. Other things that I've heard are:
I don't feel comfortable selling.
I am not converting.
Basically, you feel like there is something wrong with your marketing and sales process, but you can't pinpoint what it is. Let's talk about that.
The self-talk sounds like this:
I need to craft better emails.
I need to re-do my website.
I need to be better at social media. 
What is wrong with me?
This line of thinking (except the last line) is not wrong, but it's not exactly right either.
The problem is that you are likely looking too closely at the mechanisms and not how those mechanisms should work in the bigger picture. But that not your fault!
You are likely watching videos and reading blogs on how to get specific marketing initiatives just right. You're getting super focused on these tactics.
Maybe you are making an assumption, or maybe it's how the information is presented, but you feel like, "if I could just get this right, I'll convert my leads into a sale." You probably haven't noticed that with much of this content you are consuming, there is an emphasis placed on lead generation, rather than building relationships.
Here's the thing…something is missing.
Your buyer, any buyer, does not go from introduction to sale in two easy steps. There is a process that allows them to get them to know and trust you. That is Sales 101, right?  The digital sales process also needs to lean on relationship building as well.
The 'thing' that is missing is that you are not identifying all the stuff that is between "intro" and "sale." Often times, new businesses (and even seasoned businesses) overlook these stages. Let me explain.
You probably understand that your customer has specific touchpoints when you fulfill the sale. We call that a customer journey. Meet the Buyer's Journey.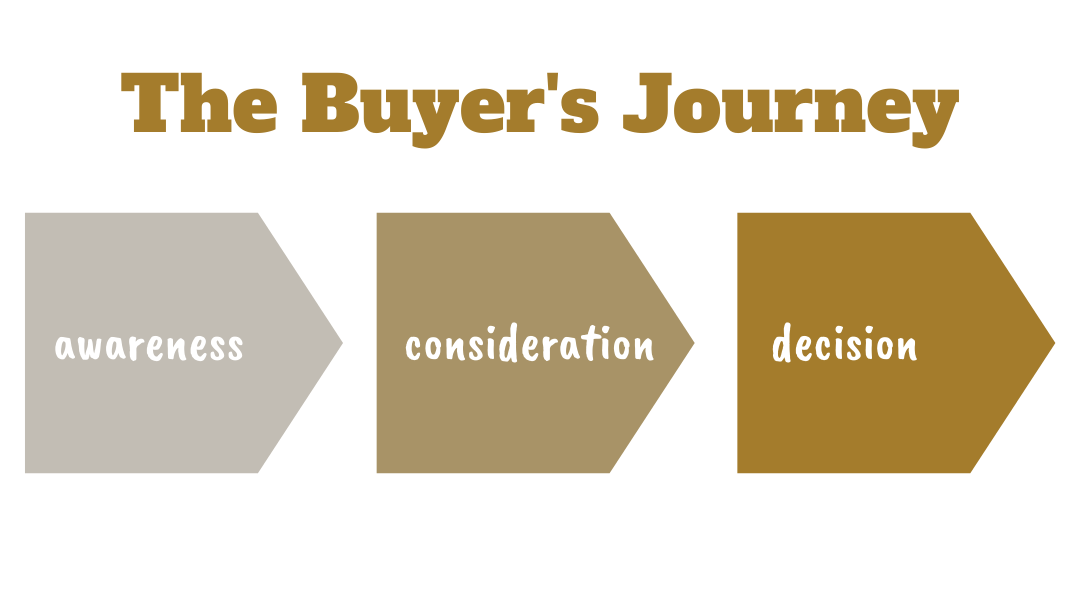 While the graphic above gives you the three main stages, we should really identify with five stages: awareness (intro), interest, consideration, purchase (sale), loyalty (or retention).
Knowing the Buyers Journey includes the more stages than the introduction (awareness stage) and sale (decision stage) will help you identify where you can improve, craft communication that meets your buyer where they are at, and help you eliminate frustration and keep a positive mindset.
Quick marketing tips:
Understand the buyer's journey
Have a better understanding of who your buyer is.
Create content that meets your ideal buyer at each stage of the journey to help them progress.